Here and Now
Building on his solid foundations, as Pete's career moved into the noughties, he expended his repertoire, continuing to play not only with The Glitter Band but also with other different and wide ranging bands and musicians on a regular basis.
In tribute to Carlos Santana, and performing latin-rock and salsa with a dollop of blues, Pete co-founded local Kent and Sussex band "SantanaRama" in 2000, where he had the chance to really show his eclectic expertise by underpinning and accentuating those all important latin rhythms. He was able to indulge in drum solos exhibiting passion and freedom, but also precision and control.
Not one to put all his eggs in one basket, Pete also joined Glitz Blitz featuring fellow glam-rockers Syd Twynham (Mud and The Tremaloes) and John Berry (Slade) as a 3 piece band paying tribute to their 70s roots.
Combining this with local R&B Band "Desperate Measures" and a spell in the recording studio with The Arrows' Alan Merrill, recording "Cupid Deranged" in 2002 and "Alleecat" in 2004, kept Pete well and truly out of trouble in the mid-noughties.
In more recent times, whilst still gigging and managing The Glitter Band, he's filled in when required for party covers band, "The Tar Babies" and Eric Faulkner's version of the Bay City Rollers, as well as a brief soujourn for "Peanut Butter Piccaninny" (don't ask!). When required, he fills in for the Europe based "Glam Rock All Stars" and continues to play regularly with The Management (a Kent/East Sussex based, sought after covers party band performing at corporate functions and private events).
Since 2012 Pete has been the incumbent drummer with The Original Jukebox Heroes (formed of well known musicians where each band member can trace a first or second generation pedigree back to chart-topping bands of the 70s). The Band has formed the greater part of Pete's public presence since that time; delivering the Glam Rock hits of that time, and touring extensively in the UK and abroad.  Also of course, appearing regularly in the UK and especially popular in Europe, Pete continues to run and tour The Glitter Band of whom he is the legal trademark holder.
In December 2013, Pete represented The Glitter Band at the Top Of The Pops 50th Birthday celebrations in London, where stars and personalities who performed in or were connected with the Show during it's run, renewed acquaintances and shared memories.
In the summer of 2015 original 70s MUD members, Rob Davis (guitar) and Ray Stiles (bass) decided to reform for a few shows to re-create many of the numerous top 20 hits the Band had from the early-mid 1970s. They approached Pete to join the Band; always with an appetite to stretch himself and expand his repertoire, he was pleased to accept the invitation.
In February 2016 Pete and Dominic were interviewed by the Daily Star. Garry Bushell, a chief columnist at the paper was keen to hear how the Band had been affected by the stigma associated with Gary Glitter's conviction. Pete was able to describe the tide of bitterness that had unfairly affected the Band who, during their association with Gary Glitter up until they made it in their own right, was little more than a contracted backing band. He emphasized how important it is for people to understand and recognize the distinction between Gary Glitter on the one hand, and The Glitter Band on the other, whose image had been unjustly tarnished just because of word association. It's important to note that the interview was to discuss the problem with the media ignoring Glitter Band records and the Band's contribution to the music of the 70s. At no point did either Pete or Dominic refer to Gary in this context of the rather inflammatory headline, and it was regrettable that the editorial focussed on this controversial matter.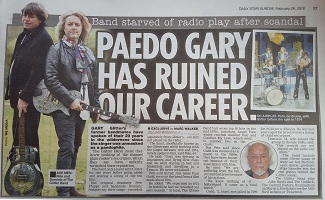 Expanding his repertoire and exhibiting his versatility, as if anyone was in any doubt, Pete guested for 70's Glam-Rock Band HELLO when they played as part of the Damals Tour in Germany in 2017.
************************************
Where possible Pete tends to avoid live lead singing; well let's face it, with all the effort of putting on a good drum performance, there's little breath left for anything other than harmonies, which he enjoys adding to the mix.
Out of the public eye, Pete has been writing and recording songs off and on since those early days.  Generally, he composes with his guitar, laying down lyrics and a soundtrack at home, before taking things further in a recording studio.  He also plays as a session drummer on a regular basis, as well as teaching drums both privately and in mainstream education, and, refreshingly different for a musician, he also instructs day and evening classes in Tai Chi.